Author: YI Mobility Inc.
Every person who walks into your business is an opportunity. You want to make sure your store demonstrates acknowledgment of individual shopper value from the start. Here are five ways you can greet shoppers and put them in the mood to buy:
1. Message people in your area
It's great if people are excited to walk into your store. You can build enthusiasm - and increase foot traffic - by using a promotion solution that sends particular messages for the day. Try and develop a loyalty program delivering online promotions about particular benefits to shopping at certain times.
By sending communications through email, social media channels or text messaging, you can greet local customers long before they enter your store.
2. Keep the sidewalk clean
When a customer pulls up to your parking lot, your business should be appealing as soon as he or she sets eyes on it. The Eliot Management Group, a small-business partner, suggested
keeping your storefront simple
, attractive, well-lit and clean. Your windows should shine and your sidewalk should be garbage free.
Depending on your area, this may mean investing time and resources to removing obstacles for sidewalk shoppers. You have to shovel snow, clear away leaves and de-ice walkways if you want to prevent people from avoiding your sidewalk.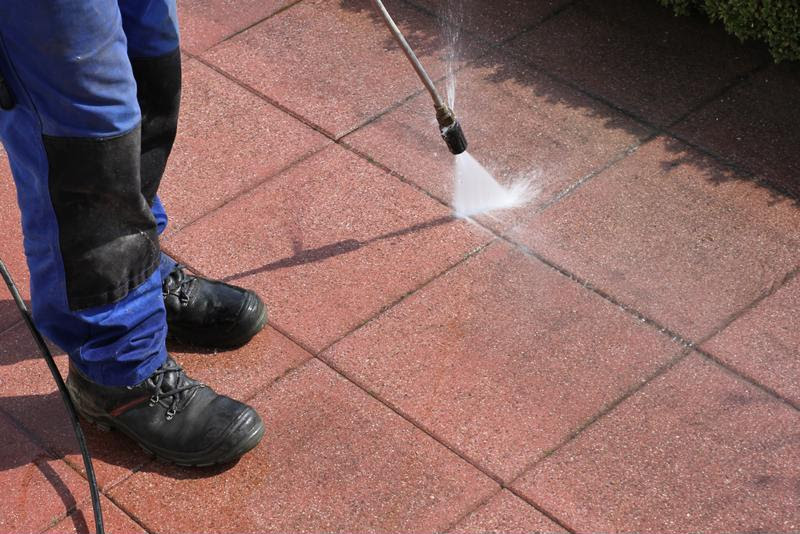 High-pressure hoses can remove grim and other unsightly stains.
3. Avoid cluttered windows
A window display can be a great attention getter, but you don't want to do too much. If you have multiple promotional posters, then no single one stands out. Shopify listed several pieces of advice for window displays and they all revolved around drawing audience eyes
to a particular focal point
.
You want your window display to communicate a single theme, narrative, product or promotional sale. If you have more to say, think about using other channels like beacon messages, sales clerks and social media campaigns.
4. Greet them at the door
There should also be someone at the front of your store that acknowledges each shopper. This could be a friendly hello or an initial inquiry into how a business representative can help. If an employee has time, and the consumer seems receptive to conversation, a clerk can begin with small talk or other pleasantries before talking about promotions.
This can be difficult on busy days, but an agent should never give a shopper half their attention. An employee can't say hello while working on something else, so maybe a smile and eye contact will be enough. A small but focused greeting is better than a distracted dismissal.
5. Use beacons for special promotions
If sales agents are busy and need a minute before they can address multiple customers, there are other ways to greet shoppers at the door. When a store uses beacon technology, they can send an automatic message to a person's mobile device as soon as they cross the threshold. This might be a friendly hello or a special discount based on prior activities.
Shoppers who receives acknowledgment and special treatment each time they visit a business will want to come back and see what they'll get next time. It also means they start their shopping visit off on the right foot.